Custom carpentry and glazing in Nice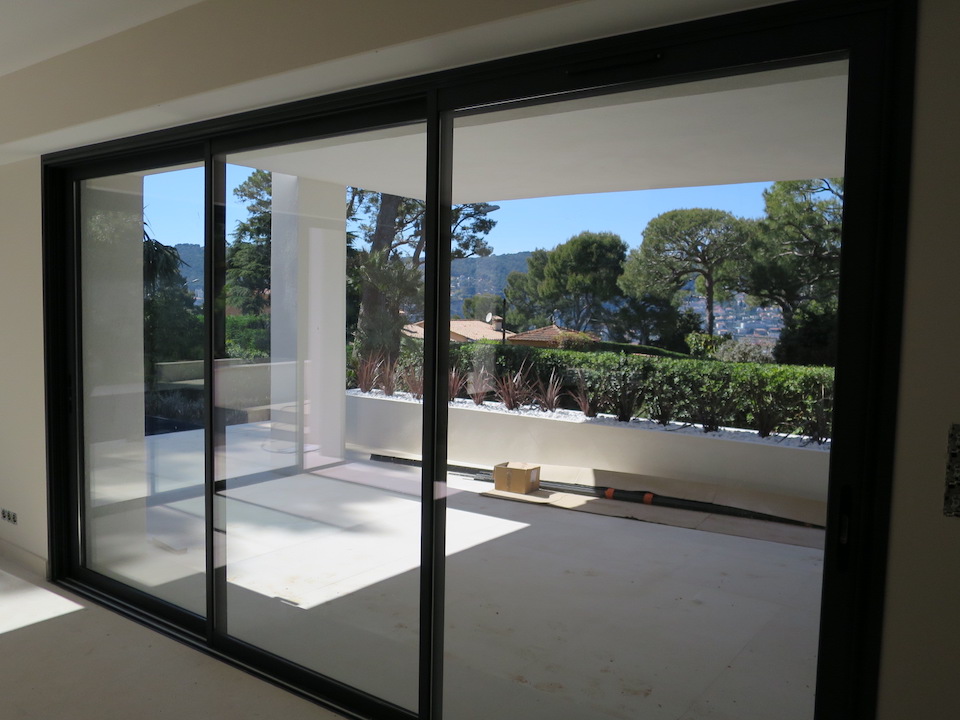 Custom-made aluminum closure
In a contemporary villa built near Nice, we were asked to supply and install joinery and glazing equipment.
In the case of a new installation for a villa offering top-of-the-range services, the choice of closures and glazing equipment makes it possible to create a coherence with the global level of range of the villa.
For this type of project we have a wide choice of materials, colors and finishes, which allows us to meet all the demands of our customers, and respond to the constraints set by the architects who design this type of project.
Custom glazing work
For this project we installed numerous aluminum bay windows as well as many large windows. The latter allow to bring a maximum of luminosity inside the villa.
The bay windows were carefully selected, in addition to their aluminum structure they were designed so that the rail in the lower part is at the same height as the ground. This allows you to enter and exit the villa without the risk of being disturbed by a doorway.
The villa one is also equipped with a large glass window on its façade. This custom-designed room brings a lot of light into a space that usually does not allow it and needs to be lit.
We equipped the villa with numerous pieces of glazing, a custom shower screen, mirrors in the bathrooms and a custom designed sauna door.
Glass railings and blinds.
In addition to the glazing work, we equipped the house with glass railings that allow for a completely unobstructed view and a unique design.
The glass railings were used in two ways. On the one hand, they were used in a conventional way for the terraces, on the other hand they were used on the upper floor as a complement to large windows, so that once the window is open, a protection is provided to avoid falls. This combination of a large window and a glass railing allows for a much greater volume of light and protection when the window is open. This is an alternative to the traditional smaller windows that are placed on a wall at the bottom.
We also equipped the villa with a Monobloc blind equipped with a cap, which protects the blind when it is rolled up.
Discover the products recommended by Servibat for this project
Tell us about your project and a Servibat expert will contact you