The advantages of an awning
The awning is the ideal solar protection to cover your terrace. In the summer, it shades your balcony or terrace and becomes a real decorative element. In winter the awning is more discreet, you unroll it only when you need it.
The awning allows you to protect your terrace or garden from UV rays, heat and sun, to make the most of your outdoor space during hot weather. This saves energy on air conditioning in the summer.
Outdoor awnings are the perfect way to dress up your terrace or garden. A true aesthetic element, the canvas awning can be customized endlessly.
The awning has a long life, due to the quality of materials used: Lacquered aluminum frames and quality fabrics selected for their insulating performance and durability.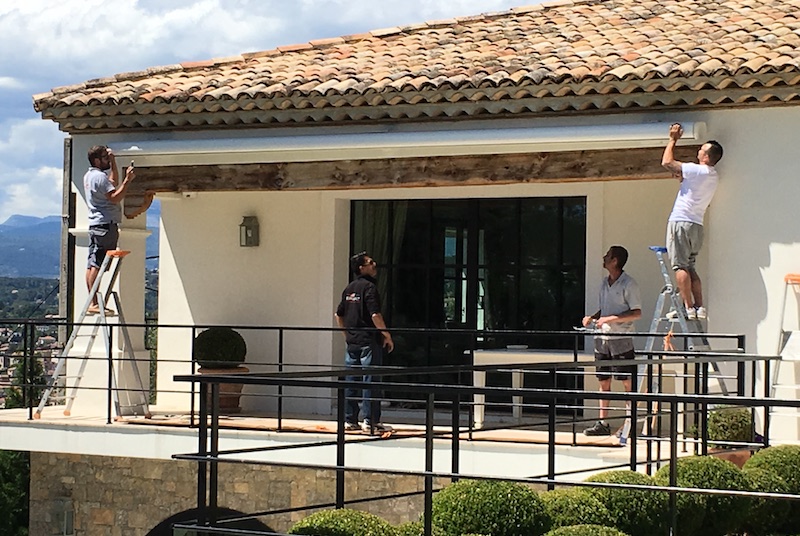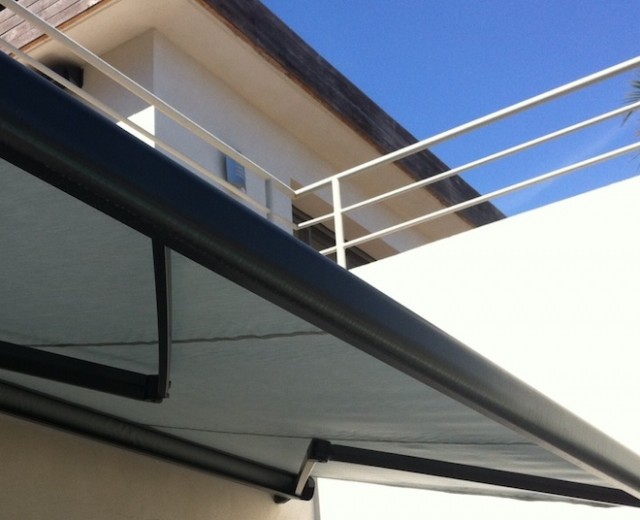 The awning is a type of outdoor awning among others, it is the best known and most common. It is ideal for balconies and terraces. Different options are available in terms of operation and finishes:
– The manual awning: this system is generally proposed for small models of outdoor blinds that will be easily unfolded and folded without effort.
– The motorized awning: it is recommended for larger models. It can be simple (via a switch or remote control) or automated (triggered in case of bad weather, wind, sun, remote, etc.). All our electric awnings are equipped with a Somfy motorization guaranteed 7 years.
– The awning without box: The awning without box is the most common, the fabric is rolled around a tube. It takes up little space, ideal for small terraces or balconies.
– The awning box: it has the particularity, unlike the awning without box, to have the fabric that fits into a box. Design and modern, this solution also extends the life of an awning.
The projection blind or Italian blind
This style of awning offers the possibility to protect yourself from the sun by providing shade (90° arm), darkness (120° arm) or obscurity (180°), depending on the angle you give it. It is more pleasant than the shutters, because you do not find yourself completely in the dark. Moreover, it brings a certain style to your home and contributes to its decoration. These blinds take up very little space and can be installed on any window you wish to protect from the sun. With our wide range of fabrics, take advantage of it to choose the one that fits perfectly with the colors of your facade.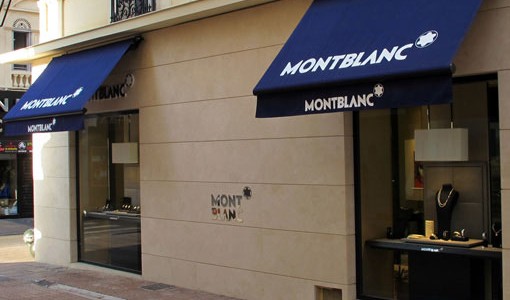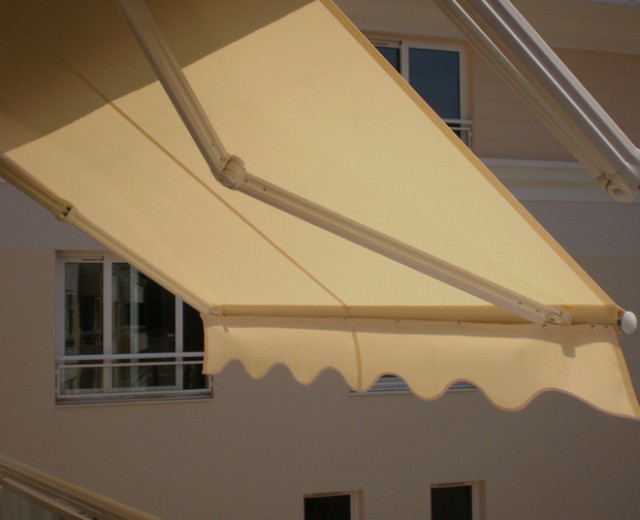 Our awning fabrics
Whether it's an awning or a projection awning, all fabrics are made in France, Dickson brand, we guarantee a high quality: quality fabrics selected for their insulating performance, their durability and their decorative aspect.
Acrylic canvas: is a very good material for awnings. It offers excellent sun protection and wind resistance. Acrylic fabrics do not fade, so you can choose a fabric with patterns without fear that they will fade over time.
Installation and repair of blinds in Nice

All our blinds are made to measure. We carry out the installation of all types of canvas blinds, and we intervene on repairs for a replacement of canvas, change of arm, motorization, adjustment and maintenance.
Servibat, Somfy Expert, offers you exclusively Somfy motorizations with a 5 to 7 year warranty and the assurance of an optimal installation that will allow you to take full advantage of all the services of the Somfy "Home Motion" connected home.

Servibat, Dickson's approved storiste, offers a wide choice of Made in France fabrics guaranteed for up to 10 years.