CONSERVATORIES NICE & FRENCH RIVIERA
Servibat, veranda specialist in Nice
Expanding a room in the house or creating an additional room, the aluminum veranda is an extension of the house. Usable in any season, it is now perceived as a living space in its own right and becomes one of the main rooms of the house. Extend your interior in transparency and brightness by entrusting us with your veranda project in Nice!
Why build an aluminum veranda?
Aluminum is a resistant, durable and easy to maintain material: Light and non-deformable, aluminum offers excellent resistance to corrosion, thanks to durable lacquering over time. The aluminum veranda, a design asset for your home: Thanks to a wide range of colors and finishes, the veranda fits perfectly with the architecture of your home. From contemporary to traditional style, we can imagine together your future veranda in Nice and its surroundings.
The aluminum profile, ideal support for large windows: The rigidity of the material allows your veranda to be equipped with large bay windows and to let in a maximum of light. The aluminum veranda, the best choice in terms of thermal and phonic insulation: Our reinforced aluminum profiles with thermal break are ideal to guarantee the waterproofness and the insulation of your new living room. Equipped with laminated insulating glass and anti-burglary, they provide effective protection against falls and vandalism. We can also use a glazing with a solar control allowing to take advantage of the contributions of heat in cold season or to avoid a too important contribution in summer.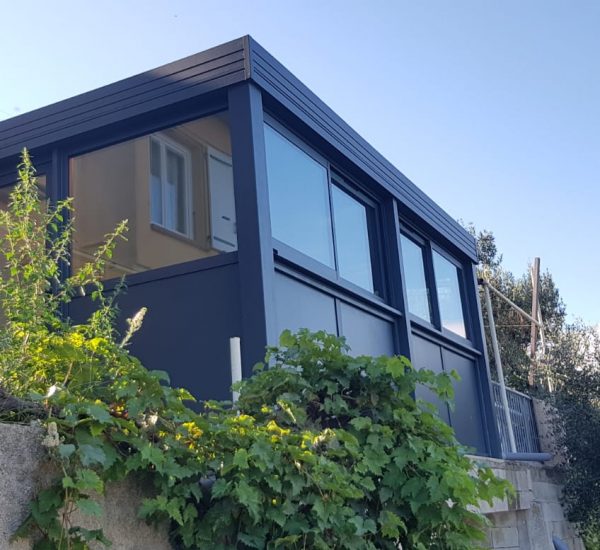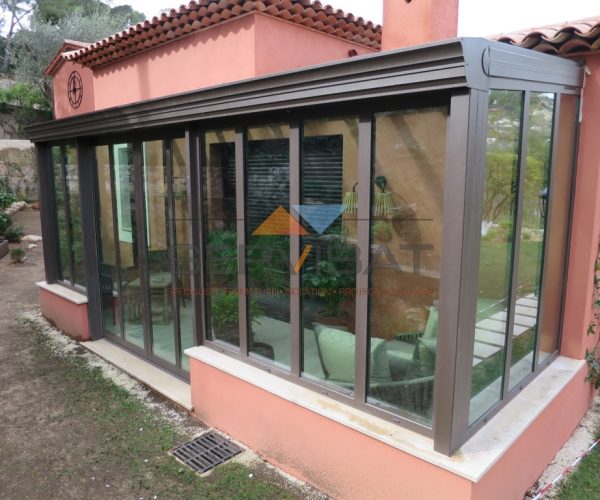 A new or renovated aluminum veranda
Aluminum, the renovation asset for verandas: Aluminum can be used to restore old verandas while keeping the spirit of the place while meeting your expectations in terms of comfort thanks to its qualities of longevity, resistance and adaptability. In the old, to build a veranda gives a blow of youth to an old building. We design each model to measure and have many solutions between shapes, styles and colors to best meet your expectations.
Gain in comfort: The oldest verandas were made with materials less efficient than today, it may be wise to replace them. Our aluminum verandas are equipped with thermal break profiles, double glazing with reinforced thermal insulation and insulating panels on the roof if you wish, in order to improve the energy performance of your home.
Which veranda to choose?
The installation of your aluminum veranda can be done according to four different cases:
Aluminum veranda in herringbone or in external support: the veranda leans on one or two walls of the house to create an additional room which adds to the initial surface
In interior support, the veranda, in the shape of "L", it adapts easily to the angles of your house and allows to improve the structure of it
Built-in, the veranda closes the "U" formed by the three walls of the house to become completely integrated into the main building. This implementation is the best solution in terms of energy performance because it allows for better heat conservation
Radiant aluminum veranda, with its rounded shape, this type of veranda offers a panoramic view of the outside
Victorian aluminum veranda is composed of two parts: a first part radiating and a second part in simple roof. The shape of this veranda gives elegance and character to your house, by its more original form.
Veranda kiosk: it differs from all others because it is independent of your house, it can take different shapes and sizes depending on the space you have
Veranda installation in Nice and its surroundings
Advice, measurements, realization and installation, we take care of your entire project to provide a complete solution in terms of expansion, security and insulation. To reinforce the vertical and horizontal solar protection, we also propose interior and exterior blinds. We realize the extension of your house, in the respect of its environment thanks to different types of structure and a wide choice of colors.
Bring transparency and light into your home by letting us take care of your conservatory project in Nice !
We offer bespoke extensions to your home that are in keeping with the environment, using a range of structures and colours.
Our thermal broken aluminium frames are the perfect way of keeping your new living room air-tight and insulated. Fitted with insulating laminated, anti-intrusion glazing, they offer effective protection against falls and attempted vandalism. We can also use solar control glass, enabling you to make the most of the heat in winter, whilst keeping it out in the summer.
Whether you want a contemporary or more traditional style, we will work with you to dream up your future conservatory in Nice and the surrounding areas.
Advice, measuring, manufacture and fitting, we take on your project from start to finish to offer you a comprehensive solution in terms of extension, security and insulation. To reinforce vertical and horizontal solar protection, we also offer internal and external blinds.
ISO-GLAZED CENTER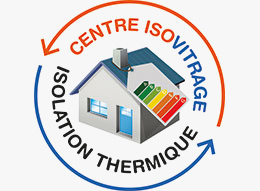 Thermal insulation – Energy savings.