GLASS
BALUSTRADES

NICE & FRENCH RIVIERA
Interior glass railing
The glass railing is first of all an installation intended to secure the users of a staircase, a balcony, a roof or a terrace by protecting them from the void. Used indoors or outdoors, glass railings are also a decorative element.
Interior glass railings can be used to delimit a space, secure a staircase or a floor. The use of glass allows to keep the impression of space and luminosity thanks to its transparency. Glass balustrades are ideal for modern lofts and apartments with a mezzanine, as well as for contemporary homes. Indeed, glass is suitable for all styles, it allows to modernize a classic interior, and it becomes a design element in a more modern home.
Glass balustrade for interior staircase
In your apartment or house, glass railings are a real decorative element. While making you feel secure in your movements from one floor to another, you benefit from a bright touch to light up your interior. The glass staircase guardrail is the perfect combination of design and safety. It fits perfectly with a contemporary home. Almost invisible, the glass balustrade for interior staircases allows you to keep the perspective of your interior and the view of the panorama in transparency.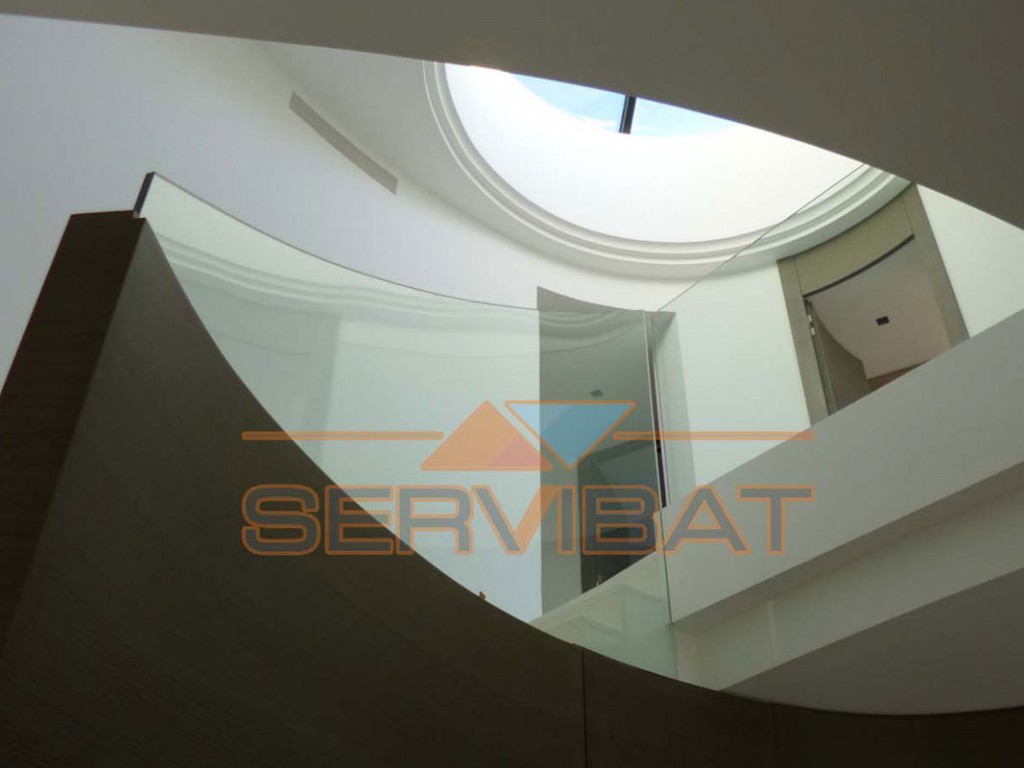 Glass balustrade for interior design
The glass railing brings a timeless design to your home. Glass blends well with other materials such as aluminum or wood. The use of glass for interior railings brings a unique style to your home while maintaining maximum visibility and brightness.
Glass mezzanine railing
The mezzanine is a great way to expand your living space and decorate your living room. It is an original choice that will make your interior rather unique. The mezzanine railing will play the main role in the decoration of your apartment. Made of glass, it will create a lot of style and define a definitely modern and design atmosphere. Moreover, the glass mezzanine railing will not shrink your space thanks to its transparency. In many cases, staircase railings are naturally converted into mezzanine railings.
Exterior glass railing
Outside, the glass railing will bring a clear view and modernize your exterior. You will appreciate the natural light and the landscape thanks to the glass walls of your guardrail while keeping it safe. The guardrails are designed to protect you while allowing you to enjoy an outdoor space that seems limitless.
Servibat glass railings are quality products designed specifically for each architectural project. Glass to enhance space and view, stainless steel or aluminum to guarantee the solidity of the work and the aesthetics.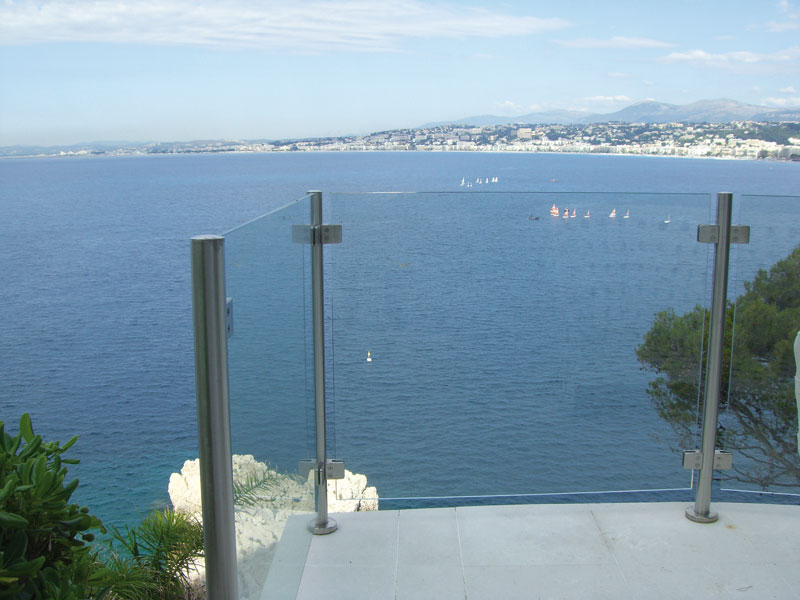 Glass balustrades for balconies and terraces
The railing for terrace and balcony allows to secure an outside space and to dress it up. It can also be used to delimit a terrace. The glass railing has the advantage of being transparent and therefore extends the space. Minimalist and almost invisible, the full glass railing is the only one that allows a completely unobstructed view while providing maximum protection. It also brings a modern touch to the exterior of your home.
Glass railing for outdoor stairs
The guardrail for outdoor staircase is an essential safety element, it is placed between the staircase and the void to avoid a fall. The railing for outdoor stairs can also be a real decorative element. In glass, it brings a contemporary touch to your exterior. The advantage of the glass railing for outdoor stairs is that it blends perfectly with all types of materials, and it remains very discreet
Glass pool railing
Essential for safety, glass pool railings help prevent an accidental fall into a pool. A real protective device, glass pool railings can also become a decorative element of your exterior. Glass pool railings are suitable for all types of exteriors and will add character to your garden.
The installation of glass pool fence is regulated, the height of the pool fence must be at least:
1.10 m from the crossbar.
1.22 m from the ground: the ground clearance should be between 25 and 102 mm.
The shingles must be spaced at a maximum of 102 mm.
The gate shall be a minimum of 1 meter wide.
Glass railing design
The glass railing is the only solid railing that provides total visibility. Used outside, it allows you to fully enjoy the view on a terrace or a balcony. Inside, the glass railing will not break a space, and will keep the size of the rooms while providing more security. We offer a range of discreet and embeddable profiles that allow the installation of specific glazing for postless guardrails.
Almost invisible, they allow you to keep the perspective of your interior and the view of the panorama while being transparent. These all-glass guardrails will fit naturally into the decor of your project.
Custom glass railings
Custom glass railings can be completely adapted to the architecture of your home. Many finishes are possible to create a unique project, you can choose the thickness of the glass, the size of the glass panels, the height of the panels, while respecting the standards in force. You can also choose a custom glass railing with or without posts. Finally, the choice of the handrail and the material used will give the final touch to your custom railing.
Glass railing without posts
For a sleeker design, we offer a range of glass railings without posts, and without handrail if you wish. The postless glass railing allows the light to pass through without any visual obstacle and to have a totally unobstructed view.
Ideal for indoor and outdoor use, the postless railing is particularly trendy in modern architecture.
Glass guardrails, standards and safety
Made to measure, our contemporary guardrails combining stainless steel posts and laminated glass offer you the safety of a robust product and the elegance of designer and durable materials. The glass used for guardrails is laminated glass, composed of 2 or more sheets of single or tempered glass, separated by one or more plastic films called PVB. It has better impact resistance and allows shards to adhere to the PVB film in case of breakage, reducing the risk of shattering injuries.
All our glass railings meet current safety standards by respecting the dimensions, type of glass used and its thickness.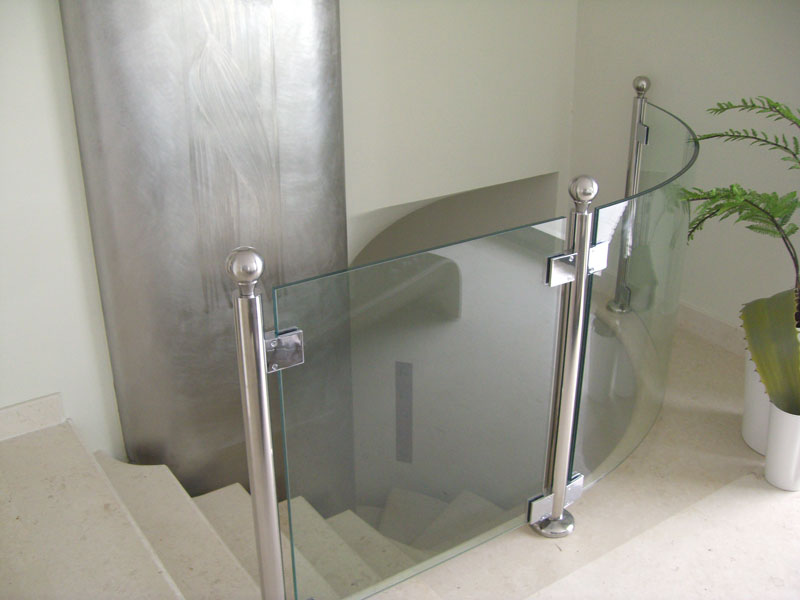 Maintenance of glass railings
Glass railings require a little more maintenance than railings made of other materials. Indeed, to remain aesthetic, glass panels must be cleaned from time to time. The maintenance is still easy, glass railings can be cleaned like windows.
For a better aesthetic result we can propose the Saint-Gobain glass, Bioclean.
This self-cleaning glass is made of clear or extra-clear glass on which a fine metallic layer is deposited that is transparent, photo-catalytic and hydrophilic. This glass allows for easy maintenance of your railings. Aesthetically, the glass is clearer and cleaner.
Installation of glass railings in Nice
We carry out your glass railing project on the French Riviera, and in other regions according to your requests. Thanks to our experience and know-how, we bring the appropriate answer to your needs. Our glass railings meet the NF safety standards and the requirements of professional quality.
Our contemporary glass balustrades are made to measure and combine stainless steel posts with laminated glass, offering you the safety of a robust product and the elegance of high quality, durable materials.
A range of discrete, built-in profiles allows purpose-built balustrade glass to be fitted without posts. Almost invisible, they retain the vista from your interior giving you a panoramic view through their transparency…