Shower
Cubicles

NICE & FRENCH RIVIERA
GLASS SHOWER ENCLOSURES
Glass shower enclosures, shower screens and shower doors are both aesthetically pleasing and practical. They help keep your bathroom free of splashes. In addition, closing the shower space brings warmth and comfort to the user as the retained steam increases the temperature of the shower.
The custom glass shower enclosure is ideal because its dimensions fit perfectly in even the smallest of bathrooms. The transparency of the glass enclosure will give the impression that your bathroom is larger. Several configurations are possible using glass shower enclosures: If your shower is against a wall you will have different possible configurations. One glass enclosure will leave one access on each side, two enclosures will leave an open access or you can completely frame your shower with two enclosures and a glass shower door. For a shower installed in the corner of the bathroom and therefore leaning on two walls, several possibilities are also possible. You can opt for a single wall, install a fixed panel to delimit the shower and add a door, or completely partition the shower with a corner door. Only the shower embedded between three walls cannot be equipped with a fixed panel. However, it can be closed with any type of shower door.
Rounded shower enclosures
Opt for an original shower with a rounded shower screen. Its rounded cutout will give your bathroom a design style. Ideal for large bathrooms, the rounded glass shower enclosure will enlarge the space of your shower, while modernizing the space.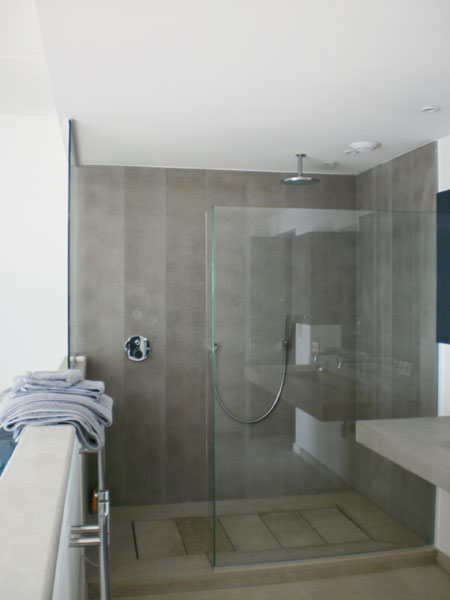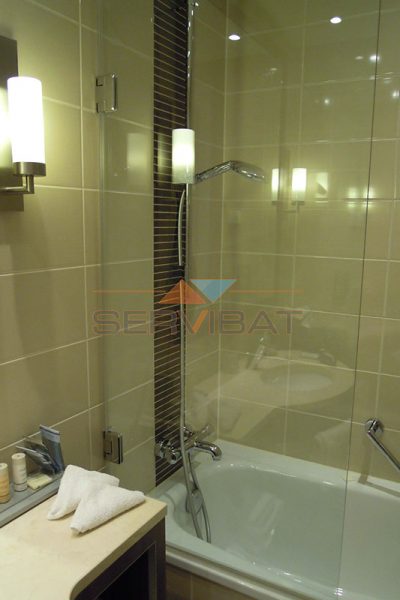 Glass shower doors
Glass shower doors allow you to have a fully enclosed shower rather than just a fixed enclosure. Depending on the layout and size of your bathroom, you can choose between a swing door, a pivot door, or a sliding glass shower door.
If you choose a door with three panels, it will give you a wider access. For a small bathroom, the pivot door is best suited. It takes up very little space and allows for a comfortable width of passage since it opens outward as well as inward. The sliding door has the advantage of taking up very little space. In fact, it does not encroach on the exterior.
The glass bath screen
The glass bath screen is the ideal solution if you want to protect your bathroom from bath splashes. It is easy to clean and very durable, unlike a shower curtain it is strong and long lasting while providing optimal protection to prevent water from dripping on your floor. A bath screen will give you all the comfort you need to fully enjoy your bathtub.
Our glass shower enclosures
All our shower enclosures are custom made to fit the dimensions of your bathroom. Our glass shower enclosures are made of 6 to 12 mm SECURIT tempered glass. The manufacturing method and the thickness of this glass make it very solid but also safe in case of breakage. You can choose your shower enclosures in clear or frosted glass. Our glass shower doors are equipped with hinges and accessories in chrome, brushed or gold-plated solid brass. Finally, to facilitate the maintenance of your glass enclosures, we offer a guaranteed and effective anti-scale treatment.
We will design and fit the right size of shower cubicle for your bathroom.
Our shower partitions or doors are made from 6 to 12 mm thick SECURIT clear or frosted tempered glass. The production method and thickness gives this glass strength but also offers safety in the event of breakage. It comes with an effective and guaranteed anti-lime-scale treatment . The doors are fitted with chrome-plated, brushed or gilded brass hinges and accessories.