GLASS TILES
iN NICE

NICE & FRENCH RIVIERA
Glass tiles for the floor
Glass floor tiles are an aesthetic and original solution for your interior. They allow light to enter your home through glass tiles. Glass tiles are no longer limited to vertical walls, as we are used to find in the bathroom, or in separating partitions in some homes.
Glass floor tiles can be used to enhance a room. Glass flooring can be used to highlight a cellar or sublimate a dark room in your home. The transparent glass floor will make your home unique and rare!
Nice glass floor
Glass floor
A glass floor is composed of glass slabs requiring careful installation by specialists who know the strict safety rules. Glass flooring usually covers small areas of the floor, rarely the entire floor. The weight of the slabs is a limit to the dimensions you choose. Indeed, beyond one square meter per tile, handling and installation become complicated.
Glass tiles for ceiling
Glass tiles can be used for the ceiling, between two floors or for the roof to create a light well.
Glass ceiling tiles to create a light well
Glass ceiling tiles are the ideal solution for a low light house, both aesthetically and practically. It creates a real light well in your home. Glass ceiling tiles beautify your home and bring light to areas that lack it.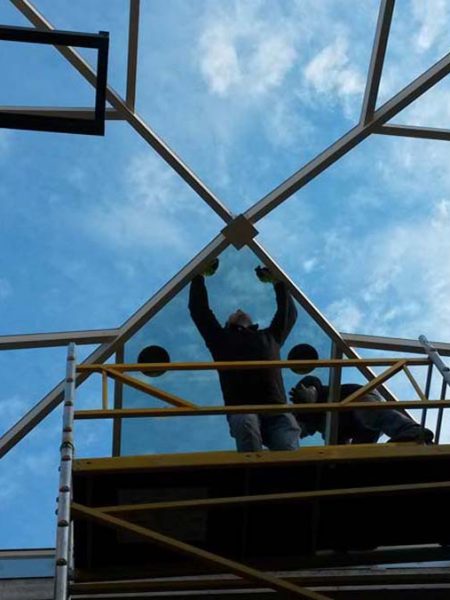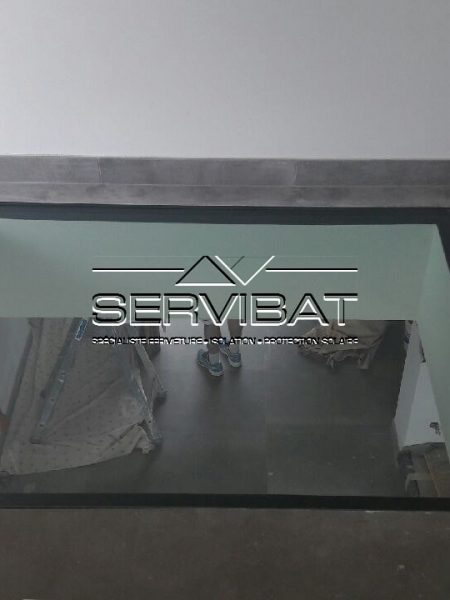 Customized glass tiles in Nice
Many finishing options are available for your custom glass tiles to get the best visual that will fit your project, and make your home unique. Colored glass, silk-screened, extra-clear, broken or lacquered. These different finishes for custom glass tiles also allow for privacy if the glass floor is placed in a bedroom or bathroom. Indeed, the glass tiles will not be totally transparent but will let the light pass through.
Installation of glass tiles in Nice
We intervene in Nice and its surroundings for the installation of glass tiles. The glass tile is installed with a metal frame, held on the four corners. The glass tile is not directly installed on the metal frame. For best comfort and sound, installers use gasketed or neoprene spacers between the metal frame and the glass tile.
What glass is used to create a glass floor or ceiling?
For ceilings and floors, glass tiles meet specific standards to ensure their resistance to wear and tear and impact. We entrust these studies to Saint-Gobain Glass in order to provide a product from its LITE-FLOOR range that will guarantee the solidity of the work and of the people, particularly according to its dimensions and the desired aesthetic. The glass slabs are composed of at least 3 tempered laminated SECURIT glass panes. They are assembled by layers of polyvinyl butyral (PVB) interlayer. The upper pane, called the protective component, is about 5mm thick and can be made of a low-slip glass such as SGG SECURIT CONTACT. The 2 lower panes, whose thicknesses are determined according to the project, are the supporting components. They guarantee the solidity of the slab. Due to its composition, the glass slabs obtain very good acoustic performances. We also offer anti-UV glass slabs, real bulwarks against the sun's rays.
On the ceiling and the floor, glass slabs meet specific standards that require them to withstand wear and tear and bumps. We commission Saint-Gobain Glass to carry out such studies who supply us with a product from their LITE-FLOOR range which ensures the solidity of the structure and personal safety based on its dimensions and the visual appearance sought. Glass slabs are made from at least 3 SECURIT tempered, laminated  layers. They are assembled from interposed layers of polyvinyl butyral (PVB). The upper layer known as a protection component measures around 5mm in width and can be made from SGG SECURIT CONTACT non-slip glass. The 2 lower layers, the thickness of which varies depending on the project, are load-bearing components. They give the slab its strength. Due to its composition, this assembly has very high acoustic and anti-UV performance. In addition to the safety aspect of this type of product, the choice of glass slab is above all a stylistic choice. Many options of finish are available to give your project the best visual appeal. Coloured, screen-printed, extra-clear, shattered effect or lacquered glass.