INSTALLATION OF ROLLER SHUTTERS
NICE & FRENCH RIVIERA
We install automatic or manual roller shutters in Nice and its surroundings. We offer a wide range of custom-made PVC and aluminum roller shutters. Our technicians will advise you on the most suitable roller shutter for your needs according to different criteria. The installation of a roller shutter has three major advantages: it secures your entrances and windows, it reduces energy losses and it improves acoustic insulation.
The PVC roller shutter allows you all standard colors, a comfortable insulation and a lightness which will offer a longer life to your motor. PVC shutters are very easy to maintain, they do not require special attention. PVC roller shutters are more suitable for small dimensions, too flexible the shutter could be deformed. Moreover it will constitute a less effective bulwark than an aluminum shutter. It is the most economical solution.
The aluminum shutter can be painted in any color. The foam-filled slats improve its insulation. More solid, with various thicknesses of slats, the aluminum roller shutter makes it possible to carry out your projects to measure, of very large dimensions. Aluminum shutters do not get damaged, they remain in perfect condition over time. Equipped with anti-lift fasteners, aluminum shutters are an effective barrier to break-ins.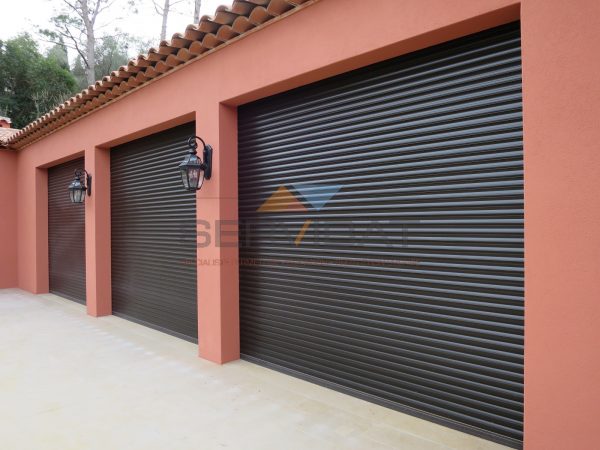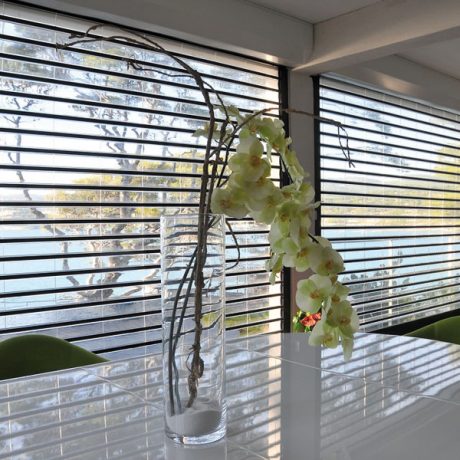 The adjustable sunshade, BSO
The adjustable sunshade (BSO) will soon replace our traditional roller shutters. The adjustable sunshade offers both the performance and security of a traditional roller shutter and the comfort of a Venetian blind. The orientation of the slats allows you to take advantage of natural light without letting in the heat: thanks to the ease of tilting the slats, you can choose the amount of light and sunlight. This newborn in the closure category is perfectly adapted to contemporary type constructions.
The transparent roller shutter
We also offer a range of transparent roller shutters to enjoy the light and your view once closed. These transparent shutters combine aestheticism and comfort and offer a great security against burglary. They will bring you satisfaction in the management of the luminosity and the contribution in heat in your habitat. The transparent roller shutter becomes the essential factor of a good energy control.
Motorized roller shutter in Nice
We also intervene for the motorization of roller shutters to improve your daily comfort. If your home or business is equipped with roller shutters with crank or strap you do not need to change them, it is possible to replace the mechanical axis by an electric motorized axis. We install a wired or wireless motor. Servibat, Somfy Expert in Nice, offers you exclusively Somfy motorizations with a 5 to 7 year warranty and the assurance of an optimal
We offer an extensive range of PVC and aluminium roller blinds.
The standard PVC roller blind offers you all of the standard colours, comfortable insulation and is lightweight thus putting less stress on the mechanism and performance of the motor.
It is smaller in size and less strong so will not offer effective protection against break-ins. It is the most economical solution.
The aluminium roller-blind can be painted any colour. The foam-filled louvers offer better insulation.
It is stronger, has louvers that come in a range of thicknesses and can come in very large sizes. Fitted with anti-lift security ties, it offers protection against break-ins.
Our organisational structure and experience mean we can carry out emergency and repair work: strap replacement, motorisation, settings and maintenance. 
We also offer a range of transparent roller blinds to take full advantage of the light and your view when the blinds are closed. These transparent blinds offer excellent protection from break-ins.
External rolling Venetian blinds
Will soon replace your traditional roller blinds. The sunbreaker with adjustable louvers offers both the performance and security of a traditional roller blind and the comfort of a Venetian blind. Adjusting the louvers offers you total black-out or, as required, allows light to enter whilst offering a degree of security and privacy. This new type of blind is perfectly suited to contemporary builds.
It will bring you satisfaction in managing the light and heat entering your home.
It is becoming a key tool in effective energy management.

Servibat, Somfy Expert, offers exclusively Somfy motors with a warranty of 5 to 7 years and ensuring optimal installation that will allow you to enjoy all the services of the connected home Somfy "Home Motion".

COLOUR CHART : DISCOVER ALL THE COLOURS IN THE RAL COLOUR CHART FOR ALUMINIUM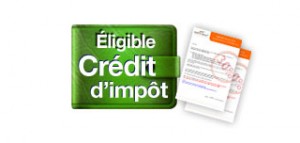 Our 'energy efficient' certified fitting service enables you to benefit from any tax credits available under current legislation.