Aluminum joinery & glass railings for terrace & stairs
Exterior glass railing without uprights
One type of project for which Servibat has extensive expertise and experience is villas with panoramic views of the Mediterranean Sea.
We were asked to completely renovate a villa and modernize its windows and closures.
In order to offer an unobstructed view of the horizon, these projects are perfectly suited to the use of aluminum joinery allowing very large glass surfaces.
Combined with glass railings for terraces without uprights, we limit to the maximum the fixed elements between the inhabitant of the villa and the panoramic view, guaranteed effect.
Custom mirror work in Villefranche-sur-Mer
In addition to the renovation of the aluminum joinery and the glass railings, we were also asked to renovate the entire interior mirror work.
In order to adapt the glass surfaces to the architectural style of the villa, all the glass pieces we proposed, for the shower, the bathroom mirrors as well as for the interior partitions, were made to measure.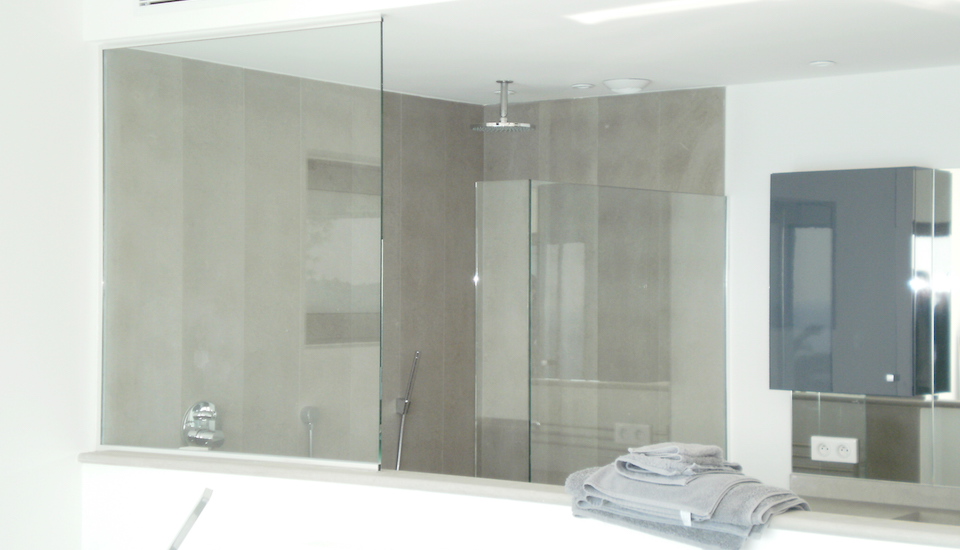 Roller shutters and canvas blinds
Still in the wish of a complete renovation of this villa in Villefranche-sur-Mer, the owner asked us to replace the garage doors having the specificity to be rolling, this for question of encumbrance.
We also took in charge the replacement of Monobloc roller shutters, the latter being particularly adapted within the framework of a renovation in complex spaces, simple of installation, they make it possible to position the rolled up shutter outside and thus to avoid any transfer of energy.
Finally, we replaced the canvas blinds by adding a motorization system to facilitate their use.
Discover the products recommended by Servibat for this project
Tell us about your project and a Servibat expert will contact you