GLAZIERY –
MIRROR WORK

NICE & FRENCH RIVIERA
Glazing and mirror work in Nice
Servibat is your specialist partner for glass and glazing in Nice. Our experience acquired since the creation of our company more than 25 years ago in the installation of glazing, allows us to answer all types of requests concerning the supply and the implementation of glazing. Whether it's for single or double glazing, small or large custom-made windows, Servibat takes care of all your glazing work in Nice and the surrounding area. Thanks to our trusted partners, we take care of the manufacturing and cutting in order to personalize all your glass and glazing projects.
Replacement of broken glass in Nice
Your window is broken and you need a glass specialist to help you out. From the simplest glass replacement on a wooden window to the most important, with the use of a crane equipped with a vacuum lifting device, Servibat is able to carry out and replace all types of glass. Careful and rigorous, our glass technicians ensure the replacement of all types of glass, for a neat and impeccable result.
Mirror making: creation of custom mirrors
Do you want an original mirror, or are you looking for a non-standard format? Servibat, specialist in mirror making and glazing, can customize your projects with dimensions adapted to your interior.
For a bathroom mirror, a decorative mirror in your living room or a bedroom, choose a mirror adapted to your interior both in size and shape. We make your mirror to measure. You can customize its size, thickness, color (silver, bronze, or even with an aged effect) and shape. For a custom mirror for practical use, choose a simple mirror. For a decorative mirror, choose an extra-clear mirror with exceptional transparency, or a colored mirror (to be tinted according to your desires). For the children's room, be careful and install an anti-shattering mirror, protected by a safety film which, in case of breakage, prevents the pieces of glass from scattering.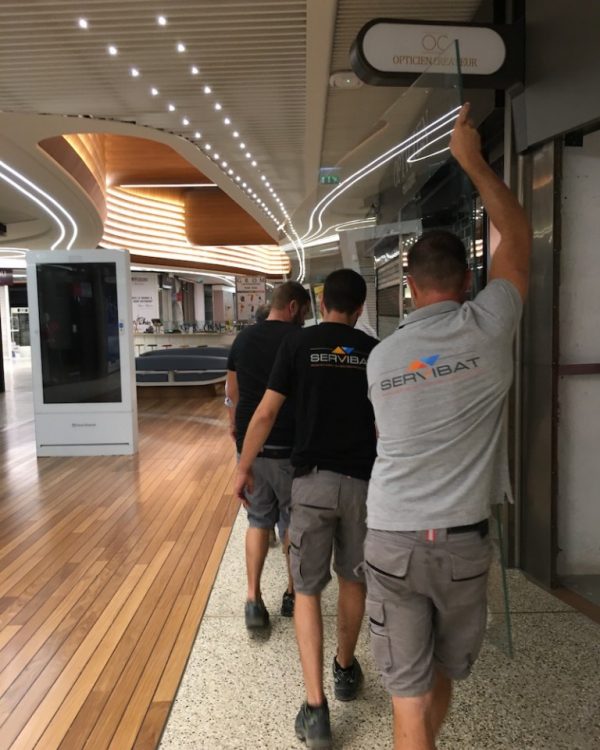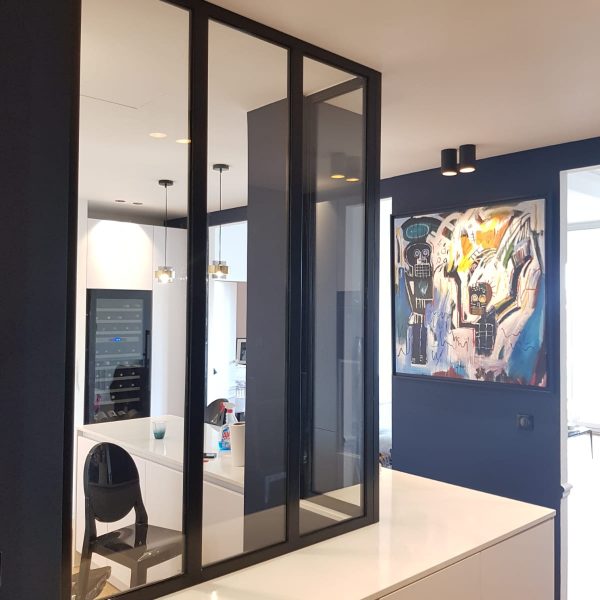 Store window in Nice – Custom made glass
Our glazing work contributes to the decoration of your home. Glass railings, shower cubicles, but also straight, shaped and custom mirrors, table tops, lacquered glass worktops, glass credenzas or glass floor tiles. The quality of Saint-Gobain glass and its various decorative aspects allow us to design the project that will fit the layout and decoration of your interior. Glass thickness, transparency, color, cut of the glass. The advantage of custom-made glass is that you choose what is best for your room or your furniture.
Our experience of glazing gained since establishing our company in Villefranche-sur-Mer some 20 years ago, enables us to respond to any request to supply and fit glazing in Nice and the Alpes-Maritimes department.
From the smallest job, replacing a broken pane in a wooden frame, to the biggest, involving the use of a crane equipped with a vacuum lifting device as you can see on one of the photos of a double-glazing replacement at Saint Jean Cap Ferrat. We can fit large scale glazing.
Our glazing work adds an additional design feature to your home.Glass balustrades, shower cubicles, but also straight, shaped and bespoke mirrors, table tops, lacquered glass worktops, glass flashbacks or glass floor slabs…
The quality of Saint-Gobain glazing and their different decorative finishes  enable us to devise a project in keeping with the layout and interior of your home.